i may not be an athlete or a musician, but there is one talent that i definitely have. i can take a bunch of shit in my pantry or fridge, and make a pretty decent meal. such was the case tonight, since it's almost two weeks until payday and my checking account contains a whopping twelve bucks. luckily, i stock my freezer with meat and veggies when they're on sale at the grocery (and when i have a bit of extra money here and there), so it's not hard to pull off something wonderful.
on the menu tonight (for me and my nanny) was:
Chicken Parmesan:
what you'll need:
two pieces of chicken (i used thighs with the bone in)
olive oil
one egg
bread crumbs + your favorite seasoning (or just seasoned bread crumbs)
half of an onion
a teaspoon of garlic
one shot of cheap white wine (i always keep a bottle in my fridge to make sauces)
a tablespoon each of dried basil, oregano, and parsley
one bay leaf
a big can of crushed tomatoes
a small can of whole tomatoes
a handful of whole wheat spagetti
what you do:
first, make sure you're using an oven-safe skillet, and preheat your oven to 400 degrees. dip the chicken in egg and then the seasoned bread crumbs. add the battered chicken to a hot skillet containing a bit of olive oil. when chicken is browned, remove from pan and add onion. brown for one minute and add garlic. cook for one more minute. deglaze the pan with a shot of white wine and add dried herbs. simmer for a minute or two to reduce and cook out the alcohol. then add your tomatoes, crushing the whole tomatoes with a fork as you stir. salt and pepper to taste. add chicken back to skillet of tomato sauce and place in the oven for 20 minutes. after twenty minutes, bring a pot of boiling water to a boil, salt, and add your pasta. serve pasta with piece of chicken and extra sauce on top.
*i also made some quick broccoli, but that really doesn't even warrant a recipe. i used frozen broccoli and simply placed it on a greased (with cooking spray) sheet pan with salt and pepper, sprayed the top with PAM, and then baked in the oven at 400 for around twenty minutes. this is my FAVORITE way to eat broccoli because it gets a bit crunchy on the ends, but it's still sweet and juicy inside.
Artichokes in a white wine and thyme sauce:
what you'll need:
a box of frozen artichokes (mine were quartered)
olive oil
garlic
a piece of an onion
dried thyme
white wine
chicken stock (i buy mine in a box at the grocery store)
1 tblspoon of lite butter
what you do:
add a few tablespoons of olive oil to a hot skillet. add piece of onion and cook for one minute. add a tablespoon of garlic and cook for one more minute. add shot of white wine and one tablespoon of dry thyme. simmer for a few minutes until alcohol is cooked mostly out. add a shot of chicken stock. simmer one more minute. add artichoke quarters and cook for three to five minutes until tender. remove artichokes leaving sauce behind. reduce sauce on medium high heat and add pad of lite butter. cook for one more minute, and pour sauce over artichokes. enjoy!
Rice Krispy treats: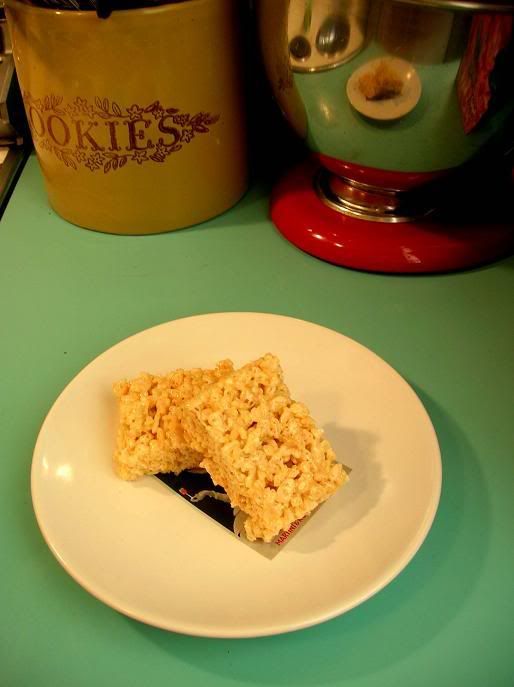 what you'll need:
1/2 stick of butter
4 cups of marshmellows
6 cups of rice krispies
cooking spray
what you do:
in a pot under medium high heat, melt butter and then add marshmellows. when smooth add rice krispies. stir until well blended, and transfer to a greased pyrex dish. press down into pan (coat your hands in cooking spray to keep them from sticking), cool, and enjoy!
okay, i have mountains of school stuff to grade so i'm going to go. thanks for stopping by!
Current Mood:
tired
Current Music: mandy moore - umbrella